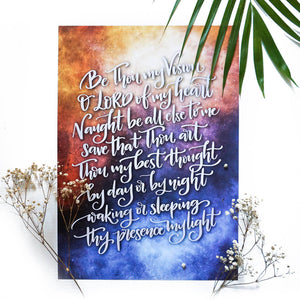 This famous Irish hymn is a favourite among many. The intergalactic look of this piece was inspired by the creator of the universe. 




Description: 
Printed on quality 260gsm Art Card and embossed with a Studio Seck seal at the bottom right corner. This is packed in a protective sleeve to ensure it gets to you in pristine condition.

Size: A3  
Width approximately 29.7cm/11.7 inches
Height approximately 42cm/16.5 inches
Additional information: 
Please note this product is only a print and comes without a frame. 


While every effort has been made to ensure that the product photo is as close to the likeness of the actual artwork, please be aware that colours on the screen may vary due to the lighting and colour resolutions of different screens.