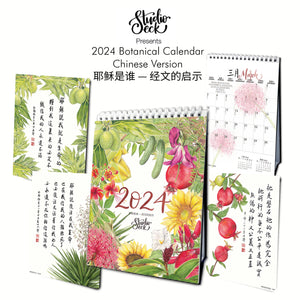 This item is currently in print production and expected to be ready for delivery in the 1st-2nd week of November.

The 2024 Edition of our Botanical Calendar - Inspired by visual representation of Jesus Christ in Chinese is now available for Pre-Order!!

This is a perfect gift for Chinese speaking family and friends. It not only serves as a practical tool but also as a powerful reminder of God's presence in your life. It's also a thoughtful gift option for this season.
Combining functionality with beauty, each month showcases unique artwork centered around a theme related to Jesus, paired with a meaningful Bible verse. What sets this calendar apart is its incorporation of local plants from sunny Singapore, bringing a touch of nature into your home.
All the featured artwork has been inspired by God & His creation, hand drawn and painted by Emily Seck with Chinese Calligraphy by Dr Tan Chong Tien.

Want the English version of the calendar? Click here! 
And if you're interested in purchasing in bulk, you have the option to combine both the English and Chinese versions to enjoy a bulk discount.

Want to share about Jesus with someone but not sure to who or how?
Download my free guide available here! 

Key Features:
Calendar size: 7" wide x 9.75" tall, designed for easy desk placement
Monthly feature artwork anchored on a theme about Jesus, along with scripture and thoughtfully selected botanicals
Monthly grid pages with the preceding and following months for reference
Gridlines on the monthly grid pages for convenient scheduling
Bible verse printed on the calendar side
Non-glossy paper that's perfect for writing on
Sturdy chipboard stand for durability
Chinese Lunar Dates
2024 Singapore Public Holidays 
Each calendar is packed in a cello bag to protect against water damage
Important Information:
When ordered with other items from our website, they will be shipped together.

Delivery options within Singapore:

+$3.50 (1-4 calendars, Singpost Tracked Package or Smartpac)
+$5 (5 or 6 calendars, Courier with tracking)

Free delivery for orders above $80 within Singapore.
We encourage payment via PAYNOW for our Singapore-based customers to help us save on transaction fees.
For added convenience, self-pickup is available within Singapore. Simply select this option during checkout, and we'll notify you via email when your order is ready for collection. Please inform us 24 hours in advance of your pickup time.
International Orders: Additional shipping charges may apply. If your country is not listed on the shipping page, please contact us to explore shipping options.
Considering this as a gift? Take advantage of our "Make it a Gift" option, which allows you to address the calendar to your recipient. Please note that an additional fee applies for this service due to the extra work involved on our part.
If you wish to send multiple copies of the calendar to several friends as gifts, kindly reach out to us for personalized assistance.
Have more questions? Check out our Calendar FAQs for further details or feel free to contact us for any inquiries.