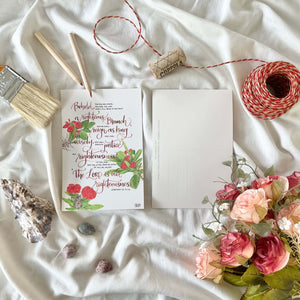 Find comfort and assurance that Jesus reigns in our lives and is our Jehovah Tsidkenu — our righteous King. One day He will return and reign forever!
"Behold, the days are coming, declares the Lord, when I will raise up for David a righteous Branch, and he shall reign as king and deal wisely, and shall execute justice and righteousness in the land. And this is the name by which he will be called: 'The Lord is our righteousness.'"
Jeremiah 23:5,6b

This season, Studio Seck brings to you a series of postcards inspired by the names of God. Where functionality meets beauty, each postcard features an artwork with a bible verse and local plants—plants we can actually find in sunny Singapore!

This featured artwork has been inspired by God & His creation, and handpainted and put together by Emily Seck. This was also featured in the 2022 Botanical Calendar. We have turned the artwork into cards so that they can serve as a practical way for you to encourage a friend today! 

Description:
- comes as a single postcard
- printed on 270gsm card with a premium soft-touch velvety finish
- packed in a protective sleeve to ensure it gets to you in pristine condition

Size: 4" x 6" 

Additional Information:
- while every effort has been made to ensure that the product photo is as close to the likeness of the actual artwork, please be aware that colours on the screen may vary due to the lighting and colour resolutions of different screens.
- orders will be sent via Singpost (Normal Mail). Will require an additional top up of SGD$3 if you would like it registered. Please Contact Us after you have placed an order to inform us of this request.